TAIPEI, Taiwan, October 24th, 2017 –
Taisys Technologies Co., Ltd. (head office located at Taipei-city, Taiwan, CEO Jason Ho – referred as Taisys herein) , Cybertrust Japan Co., Ltd (head office located at Shinjuku-ku Tokyo, CEO Shinichi Ata – referred as Cybertrust herein) and SoftBank Technology (head office located at Shinjuku-ku Tokyo, CEO Shinichi Ata – referred as SBT herein) have concluded an agreement in collaboration of developing and providing an Integrated Secure Management Platform for mobile devices.
The Subscriber Identity Module (SIM) cards contain various identities and en/decryption information for Smart Phones and other IoT Devices. In recent years, technologies capable of remotely provisioning on this SIM card via a mobile network are widely used in the M2M segment and consumer market. It is expected that these SIM cards will be further used in various applications which need high sophisticated security operations.
Taisys owns the technology to securely embed identity information in the tamper resistant area within the SIM Card. Taisys' Tamper Resistance technology has been deployed in security segment and financial services successfully. The encryption algorithm of Taisys' SIM card has been certified by American NIST (National Institute of Standards and Technology). Moreover, the remote provision technology of Taisys eSIM/Thin SIM can fulfill the connectivity requirement of IoT device globally.
Cybertrust's "Secure IoT Platform" provides a comprehensive device management solution. With digital authentication information embedded securely within the SIM cards from the manufacturing stage, and by interacting with the Authentication System, "Secure IoT Platform" identifies such device(s), and allows only the authorized device(s) to access the respective Cloud Services. It will also allow safe distribution of authenticated software updates provided by the manufacturer(s).
This Basic Agreement was concluded to bring together SoftBank Technology's Cloud implementation and operation with Cybertrust's Secure IoT Platform to develop a service which ensures providing security structure to the devices from the manufacturing stage to shipping stage.
The Integrated Secure Management Platform for mobile devices will link the respective technologies of the three company, namely "SIMoME® Thin SIM", "Cloud Service Development and its Operation", "Digital Authentication", and "Embedded OS and Structure for Secured Software Updates" to serve a new "Mobile Business" model with in-built security throughout the life-cycle of the utilized devices.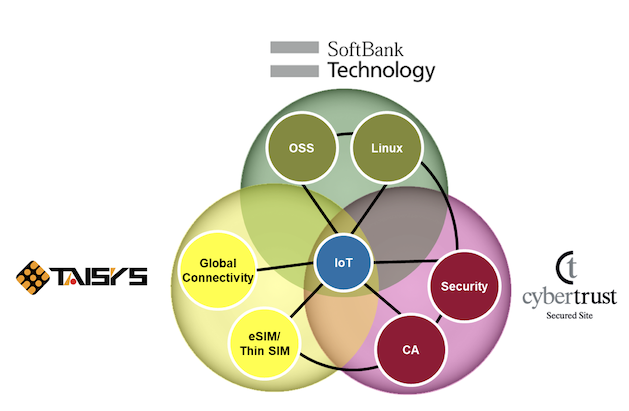 Media contact:
Banton Chen
Taisys Technologies
+886 2 2656 2185 #222
banton.chen@taisys.com
About Taisys Technologies:
Taisys Technologies Co., Ltd. is a world leader in providing mobile inter-connectivity and vertical integration solutions which enable telecom, financial industries and government organizations to extend innovative mobile services in a secure and convenient manner.
Building on our core technology - SIMoME® - our dedication to R&D create products, services, and platforms that realize security and confidentiality in the mobile device that is MNO and device manufacture independent.
Since our establishment in 2005, Taisys has expanded presence to 5 continents and services over 20 million users worldwide.
Please visit taisys.com for further information.
About SoftBank Technology Corp. :
Since its foundation, the SoftBank Group has always sought to contribute to people and society through the Information Revolution as an ICT company.
With this aspiration in mind, SoftBank Technology, is focused on the growth of Cloud and IoT market. With various M&A it has expanded as group entity with 960 employees under 8 divisional companies as of end March 2017.
The "group" is committed to provide a high value-added ICT service(s) for all of its customers under the corporate mission of "One SBT"
About Cybertrust Japan Co., Ltd. :
On October 2017, former Cybertrust and MIRACLE LINUX CORPORATION merged to form a new company named as Cybertrust Japan Co., Ltd. The 2 companies combine former Cybertrust's digital authentication and MIRACLE LINUX's Linux embedding technologies to become the pioneering company which provides highly specialized and value-added service(s) for the IoT market.