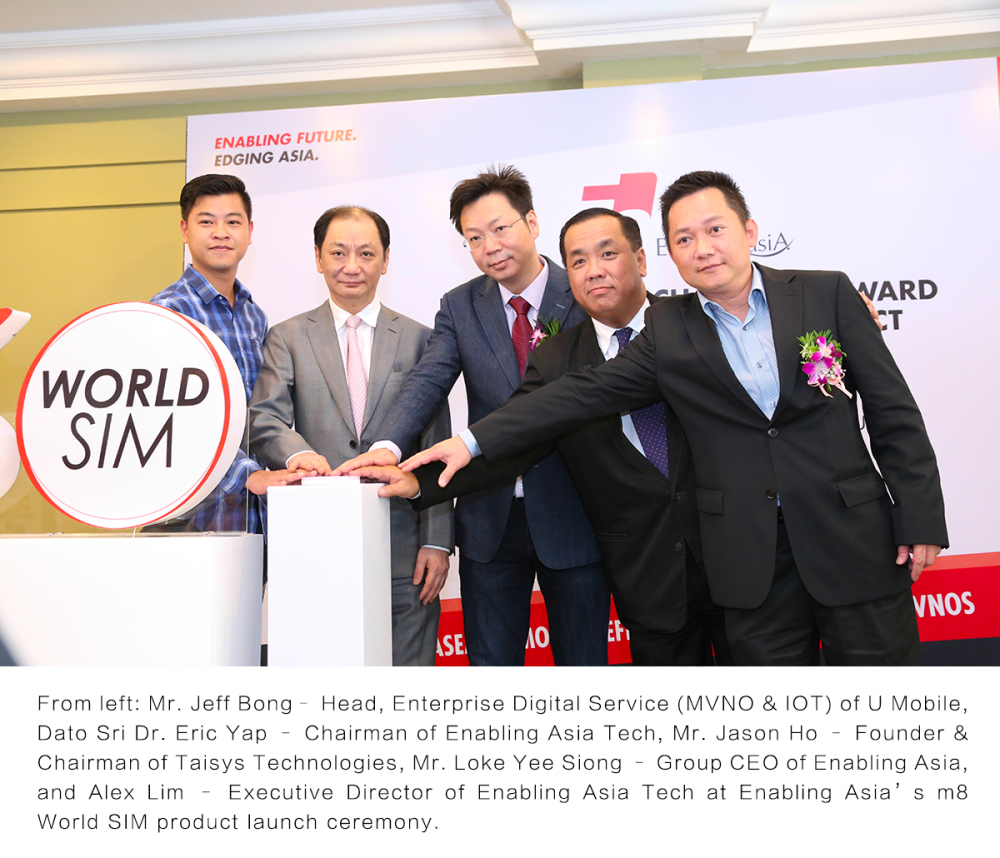 TAIPEI, Taiwan, June 7th, 2017 -- Taisys Technologies Co. Ltd., a leading provider of secure mobile solutions, attended the product launch ceremony of Enabling Asia Tech Sdn Bhd (EA), as the official global roaming solution partner for EA's m8 World SIM. Enabling Asia is Malaysia's first and only Mobile Virtual Network Aggregator (MVNA) and also operates a MVNO under the brand name Buzzme. With the launch of its m8 World SIM, EA's MVNOs and Buzzme clients can enjoy roaming service based on the eSIM remote provision and management technology, which is enabled by Taisys Technologies, the provider of the revolutionary slimduet® platform. The event took place in Kuala Lumpur at the Tournament Players Club on May 18th, 2017.
"This event marks a milestone for both Taisys and Enabling Asia, as we come together and celebrate the launch of m8 World SIM - a travel SIM enabled by Taisys slimduet platform, realizing eSIM technology for consumer devices. Aside from providing our solution for the B2C market, we now fully engage in the B2B segment, targeting MVNOs in search of a total roaming solution that is technologically advanced, cost-effective, and can be deployed swiftly. We are confident that the partnership between Taisys and Enabling Asia is only the beginning of greater things to come," said Jason Ho, Founder and Chairman of Taisys Technologies.
As part of its plan to be a regional MVNA/MVNO player, Enabling Asia announced its expansion into ASEAN, starting with Malaysia, Thailand, Indonesia, Philippines and Myanmar. These five countries make up 80% of ASEAN population with an estimated 130 million internet users. m8 World SIM is made available to EA's existing MVNOs and potential MVNO customers in ASEAN, enhancing Taisys' long term growth potential in the region as EA's roaming solution provider.
"As we prepare to transform ourselves into a regional MVNA, m8 World SIM's prospective of shifting the telco innovations landscape from border-constrained to a convergence one allows EA to address under-served consumer needs fundamentally and gain market share substantively," emphasized Mr. Loke Yee Siong, Group CEO of Enabling Asia Tech.
Taisys slimduet® Platform is one of the first remote SIM provisioning and management platforms developed for consumer devices, initially targeting'silent roamers'who don't roam on their home operator's SIM while abroad and instead opt for alternative sources to stay connected. The platform serves as an international marketplace for mobile operators to supply and sell prepaid plans, providing end users interoperable and cross-border mobile connectivity of data, voice, and SMS services on demand. To the mobile network operators (MNOs), the platform provides wholesale as a service in which MNO services are digitalized and distributed to mobile virtual network operators (MVNOs) in real-time, where retail as a service is enabled.
Since the launch of slimduet® platform in 2016, over a dozen Tier 1 mobile network operators worldwide have joined the platform to leverage the digital cross-sell business model and generate silent roamer revenue. The slimduet® offers data day pass, local and regional prepaid bundles, with coverage of more than 200 countries.
For more information on Enabling Asia, please visit enablingasia.com
For more information on slimduet® Platform, please visit taisys.com
To learn about slimduet® rate plans, please visit slimduet.net
About Enabling Asia:
Enabling Asia Tech Sdn Bhd (EA), a pioneer of Mobile Virtual Network Aggregator (MVNA) in Malaysia and ASEAN is co-founded by Mr. Loke Yee Siong. We are a specialist firm that delivers integrated solutions for enterprise clients looking to establish their own Mobile Virtual Network Operator (MVNO) business model. EA aims to become the preferred aggregator in Malaysia and ASEAN's virtual telco industry by creating strategic partnerships and service portfolio to deliver a suite of essential and user-friendly virtual telco innovations. Led by some of the best talents in the industry and supported by extensive network coverage, EA has the ability to assist enterprises, big or small, to build their own MVNO business arm and help them reach their target market quicker at an affordable investment.
About Taisys:
Taisys Technologies Co., Ltd. is a world leader in providing mobile inter-connectivity and vertical integration solutions which enable telecom, financial industries and government organizations to extend innovative mobile services in a secure and convenient manner. Taisys' slimduet® platform is the world's first live ecosystem of consumer eSIM technology, enabling MNOs to capture revenue of the silent roamer market. MNOs worldwide are adopting this platform to leverage its digitalized distribution network.
Taisys has R&D centers in Taipei, Beijing, Chongqing and India, with regional offices located in Taiwan, China, Hong Kong, Singapore, India, South Africa, and Kenya. To learn more about Taisys, please visit www.taisys.com.
Media contact:
Jennifer Chang
Taisys Technologies
jennifer.chang@taisys.com
+886 (0)2 2627 0927 #6009